Master of Theology (Missiology) Program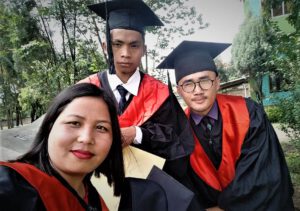 Introduction
There was a time in our history when a G. Th. or a B.Th. degree was just considered enough and those who have completed the degree immediately jumped into ministry, got married and settled down in this part of our world. Then comes the age of B.D. and M.Div. degrees that all continue to aspire before jumping in to ministry. But as time goes on, the demand for higher scholarship keeps growing. Today most M.Div. and B.D. graduates set their eyes on to completing their M.Th. degrees before settling down in the ministry. We often received inquiries from our former graduates if we have plan to start M. Th. program.
This definitely is a good sign that there is a growing interest for theological scholarship among the younger generation. Since the time of its inception in 1928, ECT has been providing the need of the church in the area of theological education with a strong evangelical foundation. In view of the need and demand of the present day, the Managing Board of ECT decided to start the M.Th. program with Missiology concentration vide its Resolution No.8 of April 28, 2017 and approved by the ECCI Annual Leaders Conference (Vide Res. No.8 of 2018). It begins with a Missiology concentration and other areas of concentration will also be added in subsequent years. Our M. Th. program is now associated with Martin Luther Christian University.
The Aims and Objectives:
The aims and objectives of the M.Th. (Missiology) program at ECT is to produce qualified and competent scholars in the field of Missiology for teaching in theological institutions and for leadership in various churches and mission organizations. The program is designed to enable qualified graduates in theology to broaden and deepen their knowledge in the area of mission studies and sharpen their research skills and competencies beyond the B.D./M.Div. level.
In addition to the existing qualified faculty members, the College will also invite qualified senior church leaders and theological scholars as Adjunct Faculty in collaboration with churches and institutions to help in teaching the M. Th. courses.
Eligibility Requirements:
The applicant needs to have a minimum of M. Div. or B. D. with at least a second class (minimum 55%; B+ average) or the equivalent from accredited colleges and seminaries. Normally a student is expected to have completed at least one year of ministry after previous degree before joining the M.Th. program. This is because integration of practical ministry experiences in the M. Th. level learning process is considered essential for an ideal outcome of learning.
Teaching Strategies:
M. Th. classes are taught in modular system of four weeks, five days a week and two hours of classes each day. Learning activities may include but not limited to discussions, readings, presentation by students, listening to lectures, study, writing research papers, and working on assignments. It is recommended to give Syllabus to the students at least one week prior to the start of the class. The Syllabus is to serve like a roadmap for students to know the nature and contents of the course and also provide information as to what is expected of them.
The four weeks module consisted of lectures and classroom interactions during the first two weeks, class presentations from students during the third week and again lectures and integration of lessons from the presentations to the main study of the subject during the fourth week. In keeping with the exam oriented nature of education in India, class test or quiz is mandatory and can be conducted either at the end of every week or on the last day of class. This class test or quiz carries at least 20% of the total marks. Assignments for each module of learning include a book review of at least three recommended books and writing an academic research paper of 15-20 pages on a topic of the student's own choice pre-approved by the instructor.    
Program Completion Requirements:
A student is required to successfully complete 15 modules, an equivalent of 45 credits, a semester-long Spiritual Formation program for 3 credits, Mission Field Exposure trip with written reports for 6 credits, six months of internship for 6 credits, passing of Thesis Proposal and oral exam for 5 credits, and an advanced level of thesis, (equivalent of 15 credits) in the area of mission between 30000 to 40000 words. The total required credit is 80.
This will also prepare a student for doctoral study in the area of mission. This program requires a minimum of two years of full-time residential study to complete the degree.
Courses of the Program
MS 600: Spiritual Formation:
This is a semester-long program during which a student is being facilitated towards spiritual growth and a deeper relationship with God. Devotional classics are given for reading and reflection. Students get together for a time of sharing and mutual encouragement under the supervisor of one faculty member.
MS 601: Readings in Missions (3hrs)
This is a reading of selected missionary biographies. The purpose is to familiarize the student with the experiences of missionaries and working in a cross-cultural setting. The student is required to write an academic reflection relating with his/her own contextual situation on his readings.
MS 602: History of World Missions (3hrs)
This is a study on the history of world missions down through the centuries and the impact it has to missionary work today for the churches in north east India.
MS 603: Intercultural Communication (3hrs)
This is a study on the models of communication for the propagation of the gospel in an intercultural setting.
MS 604: Biblical Foundation of Missions (3hrs)
This is a study on how mission has its foundation in the teaching of the bible. The Old and New Testaments are studied to explore how mission is grounded in the teaching of the bible.
MS 605: Leadership in Missions (3hrs)
This is a study on the principles of leadership from the perspective of mission.
MS 606: Contemporary Theology of Missions (3hrs)
This is a study on the different theological understanding of mission from an evangelical perspective.
MS 607: Research Methodology & Design (3hrs)
This is a study on the basic procedure for research and thesis writing based on Turabian.
MS 608: Church Growth (3hrs)
This is a study on the principles of church growth based on the Church Growth movement spearheaded by Donald McGavran.
MS 609: Current Trends in World Missions (3hrs)
This is a study on the major current trends in world missions and how it impacts the church in its work of missions.
MS 610: Tribal Denominations & Missions in Northeast India (3hrs)
This is a study on the history and development of tribal denominations in north east India and a critical appraisal on their mission strategies.
MS 611: History of Missions in India (3hrs)
This is a study of the history of mission in India with critical appraisal of the contribution of missionaries in the socio-political development of India.
MS 612: Missional Church (3hrs)
This is a study on the Missional Church conversation that has a lot to say on the missionary nature of the church.
MS 613: Urban Ministry in Missions (3hrs)
This is a study on the development and growth of urbanization in today's culture and its potential for mission and evangelism.
MS 614: Holistic Mission Approach to Children Ministry (3hrs)
This course looks into the Missiological approach to the ministry among children.
MS 615: Women in Missions (3hrs)
This study looks into the role of women in the missio Dei in the Bible and explore what women are doing and will be doing in the light of today's cultural and context.
MS 616: Christian Family and Missions (3hrs)
This is a study on the nature and characteristics of a Christian family and the role it can play in the work of mission.
MS 617: Missions Among Muslims (3hrs)
Islam religion is one of the fastest growing faiths and the most aggressive religions in the world today. This is a study on the importance and nature of mission work among the Muslims.
MS 618: Diaspora Missiology (3hrs)
This is a study on the missiological significance on the current global demographic changes that are taking place through large-scale migration and refugee matters.
MS 619: Integral Mission (3hrs) 
This is a study on the concept of integral mission and what it means for the churches in north east India.
MS 620: Women Studies (3hrs)
A study of women status in the world and also in the tribal communities of north east India with critical appraisal of gender equality in the light of the Scripture.
Thesis (15hrs)
A student selects a topic that is relevant to his/her future or current ministry that will contribute to the academic field of mission studies. The thesis is to be around 30000 to 40000 words.